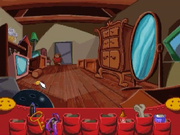 The Attic is a location in Fatty Bear's Birthday Surprise.
To gain access the attic, Fatty Bear will need to get the attic key from the mouse (with the help of some cheese from the fridge).
If the puppy stole the chocolate chips, it will run off and eventually crash into the attic door and lose the chocolate chips, prompting Fatty Bear to get inside so he can get back the chocolate chips.
The dress-up mini game can be found here where Fatty Bear can put on different clothes in the drawers and see how he looks in the costumes through a nearby mirror.
Ad blocker interference detected!
Wikia is a free-to-use site that makes money from advertising. We have a modified experience for viewers using ad blockers

Wikia is not accessible if you've made further modifications. Remove the custom ad blocker rule(s) and the page will load as expected.