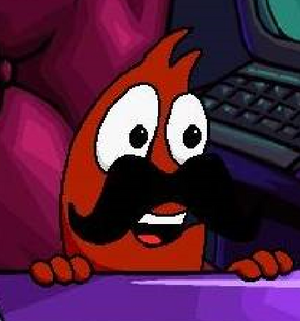 The Bean Foreman is the Boss-Foreman of the Factory at the Foothills.
Appearance
Edit
The Bean Foreman is a kidney bean who bears a large, black moustache
The Bean Foreman is the foreman of a construction site on the island of MopTop. Both jellybeans and kidney beans work on the site.
In one pathway, the jellybeans and kidney beans may be striking against each other, leaving Bean 47 stuck suspended on a steel beam. The foreman, working with sam, must resolve the strike
In the alternative pathway, a bean sorting machine has been delivered to the site. The foreman needs help in setting the machine up.
Ad blocker interference detected!
Wikia is a free-to-use site that makes money from advertising. We have a modified experience for viewers using ad blockers

Wikia is not accessible if you've made further modifications. Remove the custom ad blocker rule(s) and the page will load as expected.