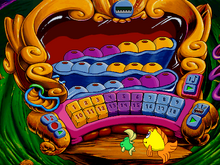 The Carnival Organ is a location in Freddi Fish 3: The Case of the Stolen Conch Shell.
You can use this nifty musical instrument to create quite a concert!  Play songs you know from a pre-recorded group included in the game or create your own and play them back!  
There are nine pre-recorded songs.  Click on the numbered button to cycle through the songs.  To hear the songs click on the arrow button; to stop them click on the arrow button again.  
There are nine drums rhythms too.  The drum button cycles between rhythms and the arrow button turns them on and off.
And you can record nine different songs.  Click on the button with the red dot to start and stop recording, and click on the Play button to hear your composition.  The numbered button allows you to cycle through the songs you've recorded, so you can record on number one and then move to number two and record another song.  Then use the same button to hear your creations.  You can record over your songs too.
The button at the top of the organ will change the instrument sounds you hear.  There are several, among them a guitar, a piano and a dog bark!
The great thing about this organ is you can see the sponges making the noises and watch them move.  When you click the keys individually each note makes a sponge move.  When you play a whole song you can watch the sponges working up and down to make the sounds you know.
Sometimes this organ is part of the puzzle Freddi and Luther must solve, click here for more information.
Ad blocker interference detected!
Wikia is a free-to-use site that makes money from advertising. We have a modified experience for viewers using ad blockers

Wikia is not accessible if you've made further modifications. Remove the custom ad blocker rule(s) and the page will load as expected.