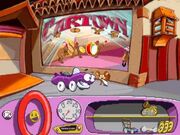 Cartown Toy Store is a toy store as seen in Putt-Putt Joins the Parade and Putt-Putt Enters the Race.
Putt-Putt Joins the Parade
Edit
Unless Putt-Putt needs to go to Red Street to mow lawns, he doesn't need to actually visit the toy store since it would be optional.
Putt-Putt decides to go inside to see if they have a balloon, but when he enters the store, he learns from Mrs. Pinto that Mrs. Airbag had already bought the last package. He asks where he could find her and she reveals Mrs. Airbag took Baby Beep to the Drive-In Movie Theater.
If Putt-Putt drove across the nails in Red Street, which is the funniest part ever of the game, or he simply finds them, and he hasn't gotten the magnet yet when he visits the toy store, he will ask Mrs. Pinto if he can find anything that can pick up nails off a street and she states he can use the magnet he left at the toy store a week ago and he decides to use that to help him.
All three mini-games (Pinball Maker, Riddles and Jokes, and Puzzle Blocks) can be found and played here.
Ad blocker interference detected!
Wikia is a free-to-use site that makes money from advertising. We have a modified experience for viewers using ad blockers

Wikia is not accessible if you've made further modifications. Remove the custom ad blocker rule(s) and the page will load as expected.