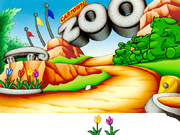 The Cartown Zoo Entrance is the entrance of the Cartown Zoo. It has a "Cartown Zoo" sign, red, blue and yellow flags and blue, red, yellow and purple flowers, which are similar to Australian's children entertainers: The Wiggles. There is also a trio of animal bushes called The Topiary Creatures.
When Putt-Putt first arrives here, he has to press the speaker in order to tell Outback Al he is here to deliver Zoo Chow for the zoo. This will allow Putt-Putt to gain access to the zoo from this point onwards.
After Putt-Putt saves all the baby animals, Outback Al gets the grand opening underway here. For Putt-Putt's efforts at saving the baby animals and the zoo, he is given a Junior Zookeeper award. Putt-Putt then cuts the grand ribbon (an honor that Outback Al also gave him besides the award) in order to declare the zoo open before the residents go inside the zoo.
Ad blocker interference detected!
Wikia is a free-to-use site that makes money from advertising. We have a modified experience for viewers using ad blockers

Wikia is not accessible if you've made further modifications. Remove the custom ad blocker rule(s) and the page will load as expected.