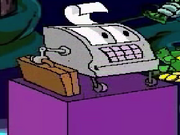 The Cash Register is a character in Pajama Sam in "No Need To Hide When It's Dark Outside".
The cash register appers when Sam creates the Wealth potion. After Sam gets the money made by the potion, the cash register takes all the money for taxes and only lets Sam keep a moldy piece of cheese before leaving.
Ad blocker interference detected!
Wikia is a free-to-use site that makes money from advertising. We have a modified experience for viewers using ad blockers

Wikia is not accessible if you've made further modifications. Remove the custom ad blocker rule(s) and the page will load as expected.