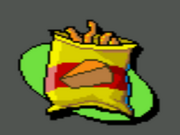 Cheese Giblets was a food item used by Pajama Sam in Pajama Sam 2: Thunder and Lightning Aren't So Frightening. They also appear in Pajama Sam 3: You Are What You Eat From Your Head To Your Feet. This item is not to be confused with Cheese Squigglies.
These are Sam's favorites so maybe someone else would like them too.
Ad blocker interference detected!
Wikia is a free-to-use site that makes money from advertising. We have a modified experience for viewers using ad blockers

Wikia is not accessible if you've made further modifications. Remove the custom ad blocker rule(s) and the page will load as expected.