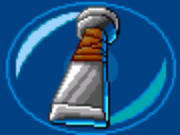 The chisel are items from Freddi Fish 3: The Case of the Stolen Conch Shell.
Freddi Fish finds the chisel in an old temple while trying the catch the thief. However, she might only need it to pry one of the three colored crystals to get the Ancient Key and free Luther from the trap.
Ad blocker interference detected!
Wikia is a free-to-use site that makes money from advertising. We have a modified experience for viewers using ad blockers

Wikia is not accessible if you've made further modifications. Remove the custom ad blocker rule(s) and the page will load as expected.