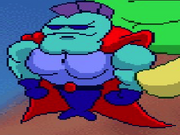 The Codfish Commando Action Figure is an item found in Freddi Fish 2: The Case of the Haunted Schoolhouse. 
Freddi Fish 2: The Case of the Haunted Schoolhouse
Edit
This action figure is a toy Luther was planning to bring for show-and-tell. However, when Freddi and Luther get to school, they discovered that the guppies are being spooked by Spongehead and Boss the Sharks who are dressed as a ghost and is stealing the toys. Luther's toy was almost stolen but Freddi manages to get it back. Later Luther uses the toy as bait so that the duo can trap the sharks and give back the guppies' toys. Luther learned that the Squidfather wanted a toy to play with since he never had a toy to play with, so he gives the Codfish Commando Action Figure to the shark. That way the Squidfather should have at least one toy to play with.
Ad blocker interference detected!
Wikia is a free-to-use site that makes money from advertising. We have a modified experience for viewers using ad blockers

Wikia is not accessible if you've made further modifications. Remove the custom ad blocker rule(s) and the page will load as expected.