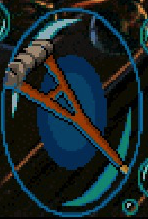 The Crutch is an item featured only in Freddi Fish and the Case of the Missing Kelp Seeds.
Freddi Fish and the Case of the Missing Kelp SeedsEdit
The Peg-finned Pirate once had this crutch before he lost it through unknown means. Freddi Fish and Luther will need it in order to get the mandolin from the pirate (as he's using it to help support himself). Freddi and Luther will find the crutch within the sunken ship in the room above the room where Phineas McFinn resides in. After Freddi offers the peg-finned pirate the crutch, he will gladly have it back and give the mandolin to the duo since he has no use for it.
Ad blocker interference detected!
Wikia is a free-to-use site that makes money from advertising. We have a modified experience for viewers using ad blockers

Wikia is not accessible if you've made further modifications. Remove the custom ad blocker rule(s) and the page will load as expected.