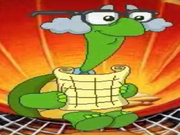 Earl is a 16-year-old turtle from Freddi Fish 5: The Case of the Creature of Coral Cove. He loves to read maps. His girlfriend is Kipper. He was voiced by Craig English. He is finally seen at the end cheering and clapping with all other citizens when Freddi and Luther save the park and when Xamfear Duncan Dogberry Valentine opens the park for them all.
Ad blocker interference detected!
Wikia is a free-to-use site that makes money from advertising. We have a modified experience for viewers using ad blockers

Wikia is not accessible if you've made further modifications. Remove the custom ad blocker rule(s) and the page will load as expected.