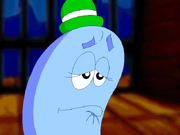 Eight Finger Phil is an octopus from Freddi Fish 4: The Case of the Hogfish Rustlers of Briny Gulch. He is a potential suspect of being Mr. Big.
Rustling the Hogfish
Edit
To prove Phil is Mr. Big, Freddy and Luther will ask about the mysterious phonecall he made to someone after they leave Saltwater Saloon. They say he was talking about a note, and that he denies his involvement about it. The note was in fact his, dropped at the saloon by the rustlers. Furthermore, if Saltwater Saloon is revisted, Phil is seen finishing his phonecall about a song called "This Little Piggy", making further connections to the idea of hogfish-napping. He will end the call hastily and return to his piano just as Freddi and Luther return. The sheet music of "This Little Piggy" is seen in the cell holding the hogfish, concluding Phil's involvement as Mr. Big. Phil will admit that his song would potentially help get the hogfish to sleep.
If he is innocent, Phil will explain the note he talks about is a musical one, not a physical paper note that was dropped in the saloon. He made the phonecall to enquire with a friend about that musical note to the song "This Little Piggy", which although suspiciously linked to the hogfish rustling, has no connection whatsoever and is nothing more but a song.
Ad blocker interference detected!
Wikia is a free-to-use site that makes money from advertising. We have a modified experience for viewers using ad blockers

Wikia is not accessible if you've made further modifications. Remove the custom ad blocker rule(s) and the page will load as expected.