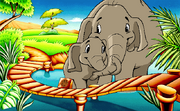 The Elephants Exhibit is one of the Grasslands areas in the Cartown Zoo. Baby Jambo and his Mama Mombassa live here.
Appearance
Edit
The exhibit is next to a small wooden bridge that leads from the Watering Hole to the River Dam. Behind the two elephants that live here is a speaker that talks about elephant facts.
Putt-Putt Saves the Zoo
Edit
Putt-Putt will pass by this exhibit on his way to the river dam, where Sammy Seal is stuck.
Ad blocker interference detected!
Wikia is a free-to-use site that makes money from advertising. We have a modified experience for viewers using ad blockers

Wikia is not accessible if you've made further modifications. Remove the custom ad blocker rule(s) and the page will load as expected.