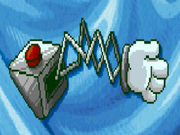 The extendo arm is an item found in Freddi Fish 5: The Case of the Creature of Coral Cove. It is first seen when Rollo the clown is selling it. The gadget is designed to help reach in unseemly places that are stinky, sticky, gluey, hot, cold, etc. The price for the extendo arm is three Purple Sea Urchins. Freddi uses the extendo arm to get the bolt out of the sea anemone to prevent herself from getting hurt. When the bolt is out, the sea anemone eats the gadget.
Ad blocker interference detected!
Wikia is a free-to-use site that makes money from advertising. We have a modified experience for viewers using ad blockers

Wikia is not accessible if you've made further modifications. Remove the custom ad blocker rule(s) and the page will load as expected.