Levels 46-50 of Maze Madness is the final stretch of the game. Huge levels, complex puzzles, and dangerous enemies. The levels throw every challenge they have faced at you. There are volcano like walls and the background is dark purple. The theme is from India, Nepal Kenya, Ghana, Finland, South Africa, Congo (Republic of), Congo DRC and Nigeria.
Previous Stage (Levels 41-45)
Next Stage: (None) End Of Game.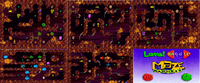 Maze Features
Enemies
Angler Fish X3
Crab X2
Junkyard Dogfish X3
Puffer Fish X1
Shark X2
Squid X2

Maze Features
Enemies
Angler Fish X2
Crab X2
Junkyard Dogfish X2
Shark X4
Squid X1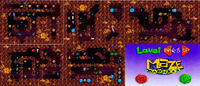 Maze Features
Kelp Seeds x 23
Bonus Room (Located at Cave 5)
Enemies
Angler Fish X4
Crab X3
Junkyard Dogfish X1
Shark X2
Squid X1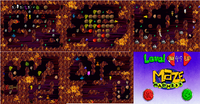 Maze Features
Enemies
Crab X1
Junkyard Dogfish X3
Shark X3
Squid X1
Carb X2
Maze #50 (End Of Game)
Edit
Maze Features
Kelp Seeds x 27
Bonus level
Enemies
Crab X 4
Junkyard Dogfish X2
Puffer Fish X3
Shark X 2
Squid X2
The music is quite ominous (complementing the cave setting). The chords are EXTREMELY irregular. The song starts in E-flat augmented, changes to A-flat minor, goes to E minor, and then it jumps around quite a bit. It concludes in E-flat minor.
Ad blocker interference detected!
Wikia is a free-to-use site that makes money from advertising. We have a modified experience for viewers using ad blockers

Wikia is not accessible if you've made further modifications. Remove the custom ad blocker rule(s) and the page will load as expected.