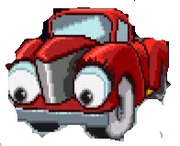 Gert is a red pick-up truck from Putt-Putt Joins the Parade. She lives on #4 Blue Street.
Putt-Putt can assist her with mowing her lawn if Smokey states Putt-Putt should start mowing lawns in Blue Street or deliver her groceries to her from Baldini's Grocery Store if Mr. Baldini requests Putt-Putt to deliver groceries to her.
It is shown that besides Putt-Putt, she is the only member outside Green Street to join the Cartown Pet Parade. Like him, also, she is carrying a dog, but that is a much bigger dog. She carries a yellow balloon and is in the back.
Gert makes a cameo at the end of Putt-Putt Goes to the Moon, when Putt-Putt (and Pep and a new friend named Rover) land(s) back on Earth from the Moon, and she tells him she hopes he's all right, as among fellow citizens, she was worried about him.
Ad blocker interference detected!
Wikia is a free-to-use site that makes money from advertising. We have a modified experience for viewers using ad blockers

Wikia is not accessible if you've made further modifications. Remove the custom ad blocker rule(s) and the page will load as expected.