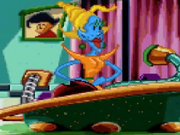 Glo is the worker of Buzz and Glo's Do-it-yourself Beauty Shop from Putt-Putt Goes to the Moon.
Glo is found at the main desk inside the beauty shop. When Putt-Putt first greets her, she asks if Putt-Putt needs a new look. Putt-Putt says no, but he shows some interest at the nearby machine and asks if he can watch it being used. Glo states he can actually do better than that: Give the shop a hand. Putt-Putt accepts the offer and he can then at any point afterwards use the machine for fun.
Ad blocker interference detected!
Wikia is a free-to-use site that makes money from advertising. We have a modified experience for viewers using ad blockers

Wikia is not accessible if you've made further modifications. Remove the custom ad blocker rule(s) and the page will load as expected.