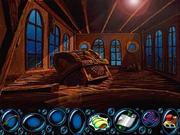 Grandma Grouper's Kelp Treasure is an item found in Freddi Fish and the Case of the Missing Kelp Seeds.
Freddi Fish and the Case of the Missing Kelp Seeds 
Edit
The kelp treasure is stolen by Spongehead and Boss the Sharks so they can have the Squidfather grow some kelp to eat. But without the kelp, all the fish will die from starvation. Because Spongehead hid the treasure, he wrote down message bottles and placed them in different locations, so that he would remember where the kelp treasure was. Freddi and Luther unintentionally find one of the message bottles and use the clues within them to lead them to the treasure. 
Once all the bottles are found, they learn that the kelp treasure is located in the sunken ship and leave for there. At the same time, Spongehead remembers where he hid the kelp, so he and Boss go to the sunken ship as well. The treasure is locked up in a room, so Freddi and Luther will use a crank handle to open the window.
When the duo do get to the chest, they attempt to lift it up until the sharks arrive to take the chest away. Freddi refuses to give the chest to them since the seeds are for everybody to share. After the sharks explain why they need the kelp treasure, Freddi suggests they can all grow kelp if they share the seeds. The sharks like the idea and agree to the compromise. With that done, the duo take the kelp treasure and return it to Grandma Grouper, while also planting and growing kelp along the way. As the last touch, the duo help Grandma Grouper plant the seeds in her yard before heading inside to tell her how they got the treasure back.
Luther accidentally lets all the kelp seeds loose into the sea while rummaging through her house for a Chocolate-Covered Worm Doodle despite Freddi telling him not to do so while Grandma Grouper is out and before it is lunchtime. Freddi and Luther are then forced to go throughout the sea and recover all the kelp seeds.
In the end they succeed in finding all the kelp seeds and returning them to the treasure chest.