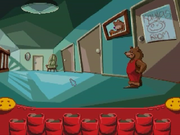 The Hallway is a location in Fatty Bear's Birthday Surprise. The doors in the hallway are Kayla's Bedroom, her parents' bedroom, the office, the attic and the bathroom.
Fatty Bear will go through this hallway to find things for Kayla's birthday cake or letters that the puppy hid.
In some games, the letter "D" can be found under the Fatty Bear picture in this hallway.
Ad blocker interference detected!
Wikia is a free-to-use site that makes money from advertising. We have a modified experience for viewers using ad blockers

Wikia is not accessible if you've made further modifications. Remove the custom ad blocker rule(s) and the page will load as expected.