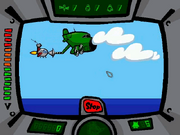 Happy Fun Sub is a mini-game in SPY Fox in "Dry Cereal". It is accessed by pressing the fun button on Spy Fox's watch.
The game consists of a morphing vehicle that can be a submarine, boat or plane.
The purpose of the game is to neutralise spy beacons, buoys and satellites whilst avoiding objects and enemies.
Ad blocker interference detected!
Wikia is a free-to-use site that makes money from advertising. We have a modified experience for viewers using ad blockers

Wikia is not accessible if you've made further modifications. Remove the custom ad blocker rule(s) and the page will load as expected.