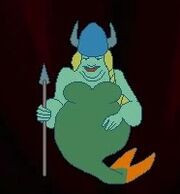 Helga The Singing Mermaid is a mermaid, dressed in viking clothes, who preforms a short opera song in the theatre in Freddi Fish and the Case of the Missing Kelp Seeds.
Helga's song is watched by Freddi and Luther at the Clamshell Theater during their search for Grandma Grouper's missing kelp seeds. After Helga has finished her song, she's pulled away from the stage by a fishing hook.
Ad blocker interference detected!
Wikia is a free-to-use site that makes money from advertising. We have a modified experience for viewers using ad blockers

Wikia is not accessible if you've made further modifications. Remove the custom ad blocker rule(s) and the page will load as expected.