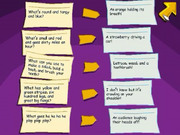 Jumbled Jokes is a mini-game in Pajama Sam 3: You Are What You Eat From Your Head To Your Feet.
Description
Edit
If you need to rescue poor Granny Smythe from the dancing Soda Cans, you'll have a chance to help Mickey Hollandaise with his jokes!  Just click on the punch line column on the right and match it to the correct joke column on the left.  Once you get the jokes in order, Mickey will give you his red shoes.
Ad blocker interference detected!
Wikia is a free-to-use site that makes money from advertising. We have a modified experience for viewers using ad blockers

Wikia is not accessible if you've made further modifications. Remove the custom ad blocker rule(s) and the page will load as expected.