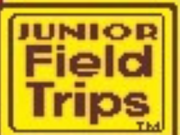 The Junior Field Trips series is a trilogy of point-and-click children's computer games released by Humongous Entertainment in conjunction with Random House. These games (in general) offered virtual tours of particular locations related to their theme, and included a game suite with virtual coloring pages, a scavenger hunt, and various other games depending upon the title. They were originally released for Windows and Macintosh computers, but were ported to Steam on April 24, 2015. These games were written using the SCUMM engine and can thus be played on additional platforms by using ScummVM.
The series was hosted by "Buzzy the Knowledge Bug" (voiced by Jim Cissell), a blue anthropomorphic insect who provides feedback on the locations when called upon and provided narration for each of the games. Two of the series' three titles were written by the noted programmer Deborah Todd.
Ad blocker interference detected!
Wikia is a free-to-use site that makes money from advertising. We have a modified experience for viewers using ad blockers

Wikia is not accessible if you've made further modifications. Remove the custom ad blocker rule(s) and the page will load as expected.