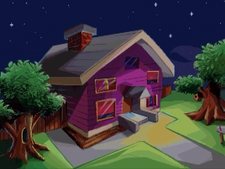 Kayla's House is a location in Fatty Bear's Birthday Surprise.
The entire game takes place both inside and outside Kayla's house. For most of the game, Kayla and her parents are asleep while Fatty Bear and his friends go around to prepare Kayla's birthday party before the family wakes up.
The only places that can be accessed only outside are the backyard, the garage, the front yard, and the treehouse. All other rooms can be accessed inside the house.
Ad blocker interference detected!
Wikia is a free-to-use site that makes money from advertising. We have a modified experience for viewers using ad blockers

Wikia is not accessible if you've made further modifications. Remove the custom ad blocker rule(s) and the page will load as expected.