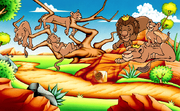 The Lions Exhibit is one of the Grasslands area in the Cartown Zoo. Kenya, Queen Leona and King Leo and the Three Lion Aunts live here.
Appearance
Edit
This habitat mostly has rocks and a leafless tree to give the lions a nice and cozy place to sleep. Behind them is a speaker that talks about lion facts.
Putt-Putt Saves the Zoo
Edit
Putt-Putt will pass by this exhibit on his way to the Giant Scary Mouse's Tree where Baby Jambo is stuck.
Ad blocker interference detected!
Wikia is a free-to-use site that makes money from advertising. We have a modified experience for viewers using ad blockers

Wikia is not accessible if you've made further modifications. Remove the custom ad blocker rule(s) and the page will load as expected.