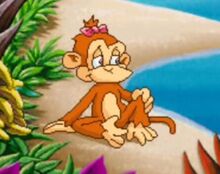 Magenta is a monkey from Freddi Fish 3: The Case of the Stolen Conch Shell who loves bananas on the Tropical Island.
Getting the Golden Pipe
Edit
Magenta appears in all versions of the storyline, but she is only important in the Golden Pipe on a Palm Tree storyline.
In the Golden Pipe on a Palm Tree storyline you should go to Magenta's raft and close the hole in it with a drain plug. Once it's done, Luther accidentally rips Magenta's sail. Then fish must go to Pierre the Tailor and give him a ripped sail to repair it. After that come back to Magenta's Raft and give Magenta the mended sail. She'll put it on the raft and will reach the Tropical Island on it.
Click the golden pipe on the palm tree to ask Magenta to get it. She'll climb the palm and throw it to you with pleasure. After she does it, the golden pipe is yours.
Sometimes when you click on a banana, she reacts in disgust if, instead of finding the flesh of a banana, she finds a pickle or pile of bugs.
Ad blocker interference detected!
Wikia is a free-to-use site that makes money from advertising. We have a modified experience for viewers using ad blockers

Wikia is not accessible if you've made further modifications. Remove the custom ad blocker rule(s) and the page will load as expected.