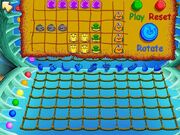 Mess Hall Mania is a Minigame in Freddi Fish 5: The Case of the Creature of Coral Cove. It resembles battleship and is found at the army area.
In the game, Freddi and Luther hide each other's fish and can make it harder by rotating the fish vertically or horizontally, and then they take turns feeding a worm doodle. If Freddi picks a square in one color row and object column and it feeds a fish, bubbles appear where the worm doodle was. If there is no fish to feed where a column and row us chosen, the worm doodle stays.
Ad blocker interference detected!
Wikia is a free-to-use site that makes money from advertising. We have a modified experience for viewers using ad blockers

Wikia is not accessible if you've made further modifications. Remove the custom ad blocker rule(s) and the page will load as expected.