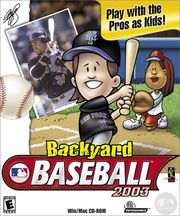 Mike Piazza is a Major League Baseball player that made appearances in the Backyard Baseball series in Baseball 2001, Baseball '03, Baseball on Game Boy Advance, GameCube, and Baseball '05 as an unlockable character. His nickname in 2001 and 2003 is "Supreme". Piazza bats and throws Right, and his birthday is March 4.
Mike Piazza's Bio in Baseball '01 & '03Edit
One of the best hitting catchers of all time, little Mikey likes listening to Heavy Metal music and playing the drums in his spare time. This powerhouse has a knack for the game - he knows how to play
Abilities
Edit
Backyard Baseball 2001: please fill in
Backyard Baseball 2003:
Batting: 9/10
Running: 3/10
Pitching: 3/10
Fielding: 8/10
Backyard Baseball (Game Boy Advance): please fill in
Backyard Baseball (GameCube): please fill in
Backyard Baseball 2005: please fill in
Power: 8/10
Contact: 5/10
Running: 6/10
Fielding: 8/10
Pitching: 5/10
Ad blocker interference detected!
Wikia is a free-to-use site that makes money from advertising. We have a modified experience for viewers using ad blockers

Wikia is not accessible if you've made further modifications. Remove the custom ad blocker rule(s) and the page will load as expected.