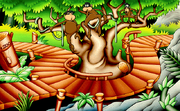 The Monkeys Exhibit is one of the Jungleland areas in the Cartown Zoo. The Rhyming Monkeys live here on a tree.
Appearance
Edit
Inside the log with the word "Zoo" on it is a toolbox.
Putt-Putt Saves the Zoo
Edit
Putt-Putt will pass by here on his way to save both Masai and Kenya.
For fun, the player can click on the Rhyming Monkeys to hear them make limericks.
Ad blocker interference detected!
Wikia is a free-to-use site that makes money from advertising. We have a modified experience for viewers using ad blockers

Wikia is not accessible if you've made further modifications. Remove the custom ad blocker rule(s) and the page will load as expected.