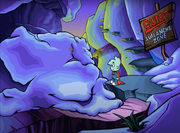 The Mountains are the locations in Pajama Sam 3: You Are What You Eat From Your Head To Your Feet.
Appearance
Edit
It's in the Headlands where you find Chuck Cheddar. Gum drops can be seen working hard, clearing away the mountain.
On the top of the mountain a philosophical fortune cookie can be found who ponders questions about cheese.
Sam can ski down the slope and retrieve a plunger along the way.