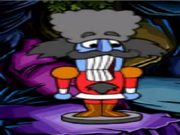 The Nutcracker is a Russian toy in Pajama Sam Life Is Rough When You Lose Your Stuff. He has little Babushkas at home,and they have big teeth like him.
Ad blocker interference detected!
Wikia is a free-to-use site that makes money from advertising. We have a modified experience for viewers using ad blockers

Wikia is not accessible if you've made further modifications. Remove the custom ad blocker rule(s) and the page will load as expected.