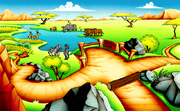 The Observation Point is the center area of the Grasslands.
Before Putt-Putt can go anywhere past the Observation Point, he must pick up and take the log blocking his path so he can continue onward.
Gazelles
Rhinos
Zebras
Wildebeests
Ad blocker interference detected!
Wikia is a free-to-use site that makes money from advertising. We have a modified experience for viewers using ad blockers

Wikia is not accessible if you've made further modifications. Remove the custom ad blocker rule(s) and the page will load as expected.