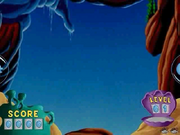 Oysteroid Arcade is a mini-game in Freddi Fish 4: The Case of the Hogfish Rustlers of Briny Gulch.
Once you've met "U," you can visit the Oysteroid Arcade where bubbles are full of troubles! Aim the oyster with your mouse, then click the mouse to split a bubble with a pearl. If you split a bubble enough, you can pop it and it will disappear. But watch out -- if a bubble touches the oyster, it's doomsday for that oyster! Fortunately, Briny Gulch oysters have three lives. (You can even get an extra oyster life for every 500 points you score.) As you progress, you'll have to split more bubbles. You can play the Oysteroid Arcade as much as you want. To exit the game, click on the QUIT bubble.
Note: To make the game easier (Windows only) so the oyster passes right through the bubble and no "oyster lives" are lost, do the following:
Exit the Oysteroids mini-game and save your adventure by clicking Freddi in the lower-left corner of the screen.
Quit Freddi Fish 4.
Click the Start button and choose Run.
Type hegames.ini and click OK.
Locate the Freddi 4 section, and at the end of the section, type DontBurstMyBubble=1 (note, no apostrophe).
Save (Ctrl S), exit the screen, and re-start the game.
Ad blocker interference detected!
Wikia is a free-to-use site that makes money from advertising. We have a modified experience for viewers using ad blockers

Wikia is not accessible if you've made further modifications. Remove the custom ad blocker rule(s) and the page will load as expected.