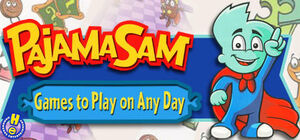 Pajama Sam: Games to Play on Any Day is a minigame-like game released in November 7, 2001. In this game, Pajama Sam is bored on a rainy day and decides to play some board games.
Wikipedia Description
Edit
Pajama Sam is bored on a rainy day, so he decides to play a board game, but his favorite one is on the top shelf. Sam attempts to climb up to reach it, but falls back on a pile of other board games and lands in a strange world where he can play 8 classic games and 2 puzzle games.
The game begins in Sam's house with him feeling bored, saying that he completed all the levels on the Pajama Man Video Game Console game and Pajama Man: The Animated Series is already in re-runs. So he decides to play board games. He puts on his cape to convert to...PAJAMA SAM! He opens the door as other board games fall into him. His favorite one is in the top shelf. As he tries to reach it...he falls down to a swirl (from Pajama Sam in "No Need To Hide When It's Dark Outside", but it is sky blue instead of pink-green) as he finds his board game, he falls down again. After the logo appears, he screams "AAAAAAHHH...".
Pajama Sam lands in a strange world were he can play 8 games and 2 puzzle games.
If players quit the game, it ends with Sam learning how board games can be fun.
This is the last Pajama Sam game to have the voice talent of Pamela Segall.
The game was released after Atari's takeover.
This is the only non-Backyard Sports SCUMM-built Humongous game to use 22khz audio.
"Neat!
"Come back Soon!" (quitting)