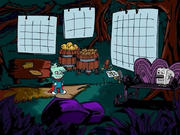 The Park is a location in Pajama Sam in "No Need To Hide When It's Dark Outside".
When Pajama Sam tries to go into the park, the bridge tells him that in order to across he has to pay a toll which is one pound of gold. After getting a gold from the mines, Sam is allowed to go into the park. While at the park, Sam plays a game called Cheese and Crackers with a toaster.
When Pajama Sam leaves the park, the Toll Bridge stamps his hand if he ever wants to come back
Ad blocker interference detected!
Wikia is a free-to-use site that makes money from advertising. We have a modified experience for viewers using ad blockers

Wikia is not accessible if you've made further modifications. Remove the custom ad blocker rule(s) and the page will load as expected.