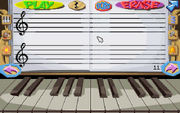 Piano Playing is a mini-game in Fatty Bear's Birthday Surprise.
Fatty Bear's Birthday Surprise
Edit
Fatty Bear can play this mini-game in the living room. Fatty Bear can either make his own music or play one of the songs in the book itself. He can also change the sound effects for the piano by clicking on one of the buttons on either the left or right of the book.
The player can only erase songs or musical pieces he or she made up, but every time he or she clicks it on the pages of a prerecorded song, Fatty Bear says, "Maybe we should keep this song."
Mary Had a Little Lamb
Twinkle, Twinkle Little Star
London Bridge is Falling Down
It's Raining, It's Pouring
Row, Row, Row Your Boat
The Bear Went Over the Mountain
Old MacDonald
I've Been Working on the Railroad
Jingle Bells
The Farmer in the Dell