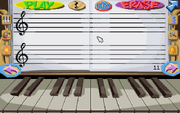 Piano Playing is a mini-game in Fatty Bear's Birthday Surprise.
Fatty Bear's Birthday Surprise
Edit
Fatty Bear can play this mini-game in the living room. Fatty Bear can either make his own music or play one of the songs in the book itself. He can also change the sound effects for the piano by clicking on one of the butttons on either the left or right of the book.
Mary Had a Little Lamb
Twinkle, Twinkle Little Star
London Bridge is Falling Down
It's Raining, It's Pouring
Row, Row, Row Your Boat
The Bear Went Over the Mountain
Old MacDonald
I've Been Working on the Railroad
Jingle Bells
The Farmer in the Dell
Ad blocker interference detected!
Wikia is a free-to-use site that makes money from advertising. We have a modified experience for viewers using ad blockers

Wikia is not accessible if you've made further modifications. Remove the custom ad blocker rule(s) and the page will load as expected.