This article is a stub. You can help Humongous Entertainment Games Wiki by expanding it.
"But yes, I am Pierre Le Pain of the bread's and grain's group."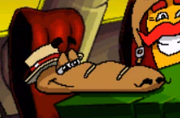 Pierre Le Pain is the delegate of the bread and grains group for the Peace Conference on Mop Top Island.
Appearance
Edit
Pierre Le Pain is…
Locked in a prize booth Edit
Fix the faucet by the cupcakes on Muscle Beach.

Visit the plumbers to get a wrench.

Water the small heads of cauliflower to make shade over the cupcakes.
Click on the Ferris wheel once the Muffins start working out.
With the hammer as your cursor, hit the bell with the hammer to "win" Pierre LePain.
Trapped on the Ferris wheel Edit
Untie the balloon salesman's shoes.
Hit the bell with the hammer as you float up into the air.
The muffins start working out again which moves the Ferris wheel and frees Pierre LePain.
Ad blocker interference detected!
Wikia is a free-to-use site that makes money from advertising. We have a modified experience for viewers using ad blockers

Wikia is not accessible if you've made further modifications. Remove the custom ad blocker rule(s) and the page will load as expected.