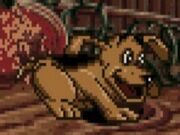 The
puppy
is
Kayla
's little puppy dog and birthday present as seen in
Fatty Bear's Birthday Surprise
.
After Fatty Bear wonders what Kayla's present is, the puppy breaks out of the present and runs out of the kitchen. Fatty Bear is prompted to retrieve the puppy and put her back into the present.
When Fatty Bear leaves and reenters the kitchen, he learns from Matilda Rabbit that the puppy stole and hid three letters for the "Happy Birthday" sign Gretchen was making. He is thus forced to find and return the missing letters to Gretchen.
If Fatty Bear got the chocolate chips after the puppy gets free, the puppy steals the chocolate chips and runs off with them until she crashes into the hole in the door to the attic, where she loses the chocolate chips. Fatty Bear is immediately prompted to get the key to the attic, so he can retrieve the chocolate chips.
If Fatty Bear goes to the garden while the puppy is free, she will be shown digging in the dirt until she runs off. Because she was messing around in the dirt, Fatty Bear will have to get the puppy clean before he can put her back in the present. After Fatty Bear entices the puppy into the bath with the bone, he must wash the puppy with water and soap and dry her off so she will be clean.
Eventually, with the help of the bone and a new ribbon, Fatty Bear gets the puppy back into the present and rewraps it. The puppy remains inside until the end of the game where she's released by Kayla's dad and given to Kayla.
Ad blocker interference detected!
Wikia is a free-to-use site that makes money from advertising. We have a modified experience for viewers using ad blockers

Wikia is not accessible if you've made further modifications. Remove the custom ad blocker rule(s) and the page will load as expected.