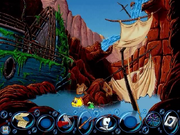 The Rusty Rustler is a sunken ship featured in Freddi Fish 4: The Case of the Hogfish Rustlers of Briny Gulch.
Rusty Rustler
Edit
The Rusty Rustler is the ship which contains the stolen Hogfish. To get into it Freddi and Luther must find the night in the diner and use the combination to undo the lock. After the door is removed, Freddi and Luther need to find 3 items of clothing to look like rustlers and gain entry. After they have gained entry the rustlers find out that they are not who they say they are and lock them in the brigg. After removing the cannonballs blocking the trap door, the player can go down and find all the hogfish, containing evidence to show which character is Mr. Big.
Ad blocker interference detected!
Wikia is a free-to-use site that makes money from advertising. We have a modified experience for viewers using ad blockers

Wikia is not accessible if you've made further modifications. Remove the custom ad blocker rule(s) and the page will load as expected.