SPY Fox in "Cheese Chase"


Developer(s)
Humongous Entertainment
Publisher(s)
Humongous Entertainment
Release Date(s)
January 14th 1998
Genre(s)
Point-and-Click, Arcade
Platform(s)
Windows 3.1 - Windows XP
System 7 - Mac OS 9.2.2
Engine
SCUMM
Input device(s)
Keyboard and Mouse
SPY Fox in "Cheese Chase" is a game developed by Humongous Entertainment in Januray 14th, 1998. It is the sixth in the series of Junior Arcade games and the third in the SPY Fox series.[1] All of the music is reused from Dry Cereal except for the ending.
Russian Blue stages a cheese heist at the Museum de Fromage to obtain the priceless Limburger Cheese. SPY Fox and Professor Quack arrive just as Russian Blue makes her escape. SPY Fox leaps from the Gyrocraft into a nearby dumpster which concealed the Super Duper Spy Scooter. SPY Fox must now pursue Russian Blue through cities, across rivers, through the ice and snow, and even in the sky. You have to pick up all the (good) cheese you can, while avoiding the obstacles and taking out goons. There are four different scenarios, and they actually change up the obstacles instead of just looking different.
As Russian Blue flies further, she stops at a fast-food place for a drink. SPY Fox seeks Russian Blue at a fast-food place and lands there. Russian Blue did not see SPY Fox behind her and SPY Fox gives Russian Blue her drink, but SPY Fox tricked her. We reveal that Professor Quack was the cashier all along as SPY Fox returns the cheese back to the museum and sends Russian Blue to jail.
The gameplay of SPY Fox in "Cheese Chase" is similar to that of Spy Hunter, a 1983 Bally Midway arcade game.
World 1 Levels (City)
Edit
World 2 Levels (River)
Edit
World 3 Levels (Ice and Snow)
Edit
World 4 Levels (Sky)
Edit
World 5 Levels (City)
Edit
World 6 Levels (Lake)
Edit
World 7 Levels (Snow and Ice)
Edit
World 8 Levels (Sky)
Edit
World 9 Levels (City and Lake)
Edit
World 10 Levels (Ice, Snow and Sky)
Edit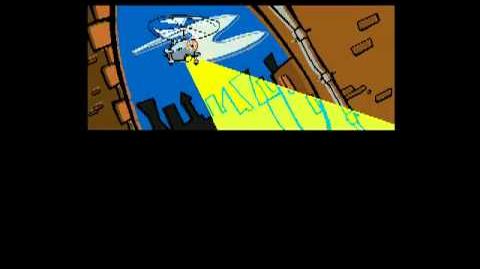 Packaging Artwork
Edit
References
Edit
↑ Humongous Entertainment Paints Atlanta "Blue" at Electronic Entertainment Expo (E3). Humongous Entertainment. Retrieved 2011-06-27.
Ad blocker interference detected!
Wikia is a free-to-use site that makes money from advertising. We have a modified experience for viewers using ad blockers

Wikia is not accessible if you've made further modifications. Remove the custom ad blocker rule(s) and the page will load as expected.