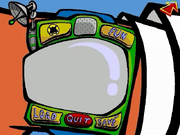 The SPY Watch is a device SPY Fox uses throughout the series. On various occasions in the games, Monkey Penny will contact Spy Fox via this watch on recent events or reminders that Spy Fox should look into. On other occasions, Spy Fox will use the watch to notify Monkey Penny on anything important he has achieved.
In the bonus ending of SPY Fox in "Dry Cereal", Monkey Penny will give SPY Fox the coordinates to Evil Villain Jail on his watch. He must input these coordinates onto the navigation panel of the blimp's robot driver as part of his two-part plan on arresting William the Kid.
Functions
Edit
Can contact Monkey Penny in the Mobile Command Center
Play a small mini-game for fun
Load a previously saved game
Quit current game
Save game on a file
Trying to call Monkey Penny on the SPY Watch while SPY Fox is in the Mobile Command Center will result in Monkey Penny scolding him for using his expensive SPY Watch to talk to her when they're in the same room. SPY Fox will think of various excuses; he was testing the battery, he can't resist playing with gadgets, he likes to hear her voice in stereo, he was trying to watch cartoons, etc.
Ad blocker interference detected!
Wikia is a free-to-use site that makes money from advertising. We have a modified experience for viewers using ad blockers

Wikia is not accessible if you've made further modifications. Remove the custom ad blocker rule(s) and the page will load as expected.