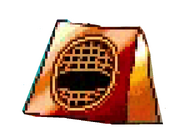 The speaker is a female character from Putt-Putt Saves the Zoo.
The speakers can talk about different animals. They are elephants, giraffes, lions, hippos, seals and snakes (which are all the species that the baby animals are).
The speakers cannot be clicked on in the demo version of Putt-Putt Saves the Zoo; if the player clicks on it, Putt-Putt will say, "We can learn about animals in the real game".
Ad blocker interference detected!
Wikia is a free-to-use site that makes money from advertising. We have a modified experience for viewers using ad blockers

Wikia is not accessible if you've made further modifications. Remove the custom ad blocker rule(s) and the page will load as expected.