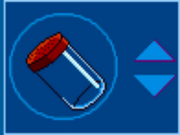 The Spice Container is an item that appears in Freddi Fish 4: The Case of the Hogfish Rustlers of Briny Gulch. It can be found in the Shipwreck where they can collect a spray of either Cayenne, Pepper or Lemon from. It only appears in the version of the game with the bow tie, and is used to get past the Blowfish guarding the cave with the Harmonica (a location exclusive to that version).
Freddi and Luther can try it out for reactions, and can ask the other characters to try it out.
When offering to give any of it to Fluke, Freddi will simply think otherwise, saying "I wouldn't like to see her (depending on what spice they have)", instead of asking.
The Help file for the game gives a recipe to go along with each of the spices.
Ad blocker interference detected!
Wikia is a free-to-use site that makes money from advertising. We have a modified experience for viewers using ad blockers

Wikia is not accessible if you've made further modifications. Remove the custom ad blocker rule(s) and the page will load as expected.