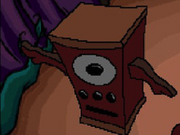 The Stereo Player is one of the characters in Pajama Sam in "No Need To Hide When It's Dark Outside".
In all games, the stereo player will be shown dancing inside Darkness's living room and will remaining dancing while Sam has not actually entered the living room. When Sam does enter all the furniture jump back into their proper places and remain stationary.
If Sam tries to turn the music on again, he will go to the stereo player and try to use it, but the stereo player slaps Sam away when he tries to turn one of its switches, making that an option that can't be used to make the furniture move again.