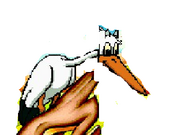 The Stork is a bird who lives at the watering hole of the Grasslands as seen in Putt-Putt Saves the Zoo. He is based on a white stork from Africa.
When the player clicks on the Stork, he will give him the option to play the mini-game, Animal Tag. In this mini-game, the player must find a number of animals marked by the picture. The Stork will give the player an option to play again when all targets are reached or continue playing when trying to leave.
Ad blocker interference detected!
Wikia is a free-to-use site that makes money from advertising. We have a modified experience for viewers using ad blockers

Wikia is not accessible if you've made further modifications. Remove the custom ad blocker rule(s) and the page will load as expected.