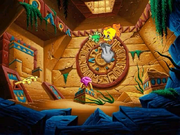 The Aztec Pyramid is a location in Freddi Fish 3: The Case of the Stolen Conch Shell.
Freddi and Luther are brought to the Aztec Pyramid when they are chasing the thief of the Golden Conch. Luther spies a giant gem and snatches it but before he can leave with it, he is imprisoned. Freddi must then retrieve the key by selecting the right colour crystal (red, blue or green) that will match the light of the 'key keeper'.
Ad blocker interference detected!
Wikia is a free-to-use site that makes money from advertising. We have a modified experience for viewers using ad blockers

Wikia is not accessible if you've made further modifications. Remove the custom ad blocker rule(s) and the page will load as expected.