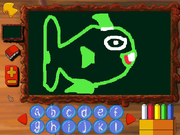 The Chalkboard is a mini-game in Freddi Fish 2: The Case of the Haunted Schoolhouse.
This mini-game can be found at the chalkboard in Mrs. Croaker's classroom.
At the chalkboard, you'll be able to draw pictures using pre-made stamps and two different sizes of chalk. Just click on a tool to pick it up, and start drawing.
The Scrolling Arrows allow you to switch between several sets of stamps. At your disposal are all kinds of pictures and even a set of characters for writing text.
The Size Toggle switches between small and large drawing tools. For lettering, the stamps will switch between uppercase and lowercase.
The Clear button will erase the entire chalkboard. Don't worry about clicking it by mistake, though. You'll be asked to confirm before the chalkboard is erased.
You can use the Eraser to remove parts of the picture if you'd rather not clear the entire chalkboard. You can resize the eraser using the toggle switch to help fine-tune your creation.
Click the Printer to create a hard copy of your masterpiece. You'll be asked to confirm before the image is printed. Note: Printing is not available in ScummVM games.
Click the Exit arrow to leave the chalkboard area.
Ad blocker interference detected!
Wikia is a free-to-use site that makes money from advertising. We have a modified experience for viewers using ad blockers

Wikia is not accessible if you've made further modifications. Remove the custom ad blocker rule(s) and the page will load as expected.