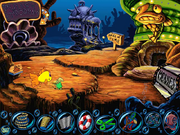 The City is one of the locations in Freddi Fish 2: The Case of the Haunted Schoolhouse.
It'll be found to the northeast of the school. You should go there to purchase the pulley for the trap for five purple sea urchins from Barnacle Bob and/or get Freddi Fish's trophy in the Hall of Fame to get a mock-stop-mibble-bock-wopper-bopper for the trap from the Manta Ray.
Plus, there's the "Movies" in the city. You can go there as you wish to have fun from the movies' characters. This place is not neccesary for completion the game.
Ad blocker interference detected!
Wikia is a free-to-use site that makes money from advertising. We have a modified experience for viewers using ad blockers

Wikia is not accessible if you've made further modifications. Remove the custom ad blocker rule(s) and the page will load as expected.