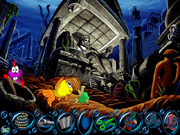 The Old Ruins is one of the locations in Freddi Fish 2: The Case of the Haunted Schoolhouse.
The Old Ruins can be found to the east of the school.
It is only important to go here in the Life Preserver storyline (where you need a slingshot from Casey and a worm doodle from the hook), trident storyline (where you need to get a trident from the Neptune Statue), cork storyline (where you need to get a pipe from Tucker), or pulley storyline (getting one of the five necessary purple sea urchins for the pulley).
Ad blocker interference detected!
Wikia is a free-to-use site that makes money from advertising. We have a modified experience for viewers using ad blockers

Wikia is not accessible if you've made further modifications. Remove the custom ad blocker rule(s) and the page will load as expected.