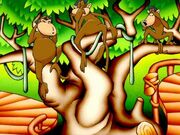 The Rhyming Gibbons are a trio group of monkeys who live in Jungleland from Putt-Putt Saves the Zoo. They love to rhyme and sing songs.
They're voiced by John Houck, George Alistar Sanger and K. Weston Phelan.
The Rhyming Gibbons are found in Jungleand right at where Putt-Putt first enters Jungleland.
The gibbons rhyme and sing songs when clicked on.
Rhyming Words
Edit
Ant
Ants
Blossom
Car
Cobra
Clydesdale
Dream
Eagle
Fan
Fatty
Fun
Fruitcake
Hair
Honey
Hopscotch
House
Honey
Junior
Mickey
Moose
Newton
Paris
Parrot
Phone
Pickle
Porridge
Power
Snake
Star
Stew
Store
Trees
Tuba
Ad blocker interference detected!
Wikia is a free-to-use site that makes money from advertising. We have a modified experience for viewers using ad blockers

Wikia is not accessible if you've made further modifications. Remove the custom ad blocker rule(s) and the page will load as expected.